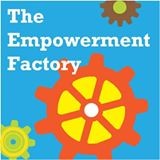 999 Main Street, Pawtucket, RI, United States (Suite 707)
999 Main Street
Pawtucket
Rhode Island
02860
US
Our mission at The Empowerment Factory is to create smarter, happier and more empowered people. We are a non-profit community learning center that hosts a variety of workshops and classes. Connect with other while embracing the opportunity to enhance your personal development and professional growth.
Contact us if you would like to:
Attend a class Register for classes online on Eventbrite.
Teach a class Join our team of trusted professionals.
Rent the Space We are located in a renovated mill with high ceilings, natural light and can accommodate groups up to 30 people. Ideal for your private events, workshops, book clubs and training seminars.
Classes include, but are not limited to:
Marketing and Entreprenuerial Seminars
Personal and Professional Development Workshops
Creativity Boosters: Art & Crafts, Writing and DIY
Like us on Facebook and sign up for our newsletter to stay in touch and get updated on current events.
Gail Ahlers is an artist and eduacator and founder of the Empowerment Factory. She moved to Providence from the New York area to attend Rhode Island School of Design, graduating with her BFA in Light Metals in 1985. Upon graduating from RISD, she studied art history in Paris and received advanced sculpture training at the San Miguel de Allende Institute in Mexico. With expertise in precious metals and sculpture and a De Beers Shining Light Diamond Design Award under her belt, Gail bridged her design talent and artistry in 1989 by founding Ahlers Designs. Gail's specialty is creating truly meaningful works of art. She collaborates closely with each and every client to create original, significant art that honors the special occasion for which it's made with timeless authenticity. Gail is a WBENC- and NGLCC-certified female business owner. She is an active member and advocate of Rhode Island's small business community, and her affiliations include RISD Alumni, The Greater Boston Business Council (GBBC), Leading Women, and The Hive Archive.
Hours:
Tuesdays 12:00pm-1:00pm for free workshop; see website for additional hours